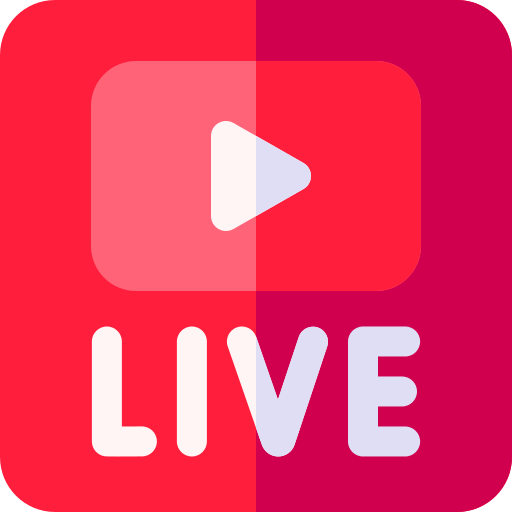 6 Best Practices for YouTube Live
One reason why YouTube has become such a significant platform around the world is that viewers feel close to the content creators they subscribe to. Indeed, YouTube allows you to get as close to creators as you possibly can without being physically present due to a format called "Live Streaming." While YouTube Live isn't new to the platform, it has become far more significant these days. Creators are now using it in ways that are transforming their businesses.
YouTube Live is a way to "live stream" yourself on the platform directly, whether you're using the app to go live right from your device or using streaming software like Streamlabs, StreamYard, or OBS. One benefit of live streaming is that you don't have to edit the video. Plus, it will become a regular video on your channel if you choose to leave it up.
Like radio and TV talk and news shows, many smart creators are building live streaming studios (called "battle stations" in industry jargon) to broadcast all kinds of niche content, including daily stock trading and market reports, church services and religious programs, sports commentary, politics, news, celebrity and influencer gossip, and even 24/7 live streaming of bird nests, farm animals, and public spaces.
Many professionals, business leaders, and entrepreneurs use YouTube Live to answer questions from subscribers that are posted in chat or to conduct interviews through StreamYard or Zoom. Gaming live streams have been growing in popularity as well. According to Ryan Wyatt, head of YouTube Gaming, users watched one hundred billion hours of gaming content on the platform in 2020—twice as many hours as they watched in 2018.
One of the best examples of YouTube Live comes from Emily Baker, the attorney who posts commentaries on trending legal topics and lawsuits. Most of Emily's content takes the form of live broadcasts, some of which are one, two, or three hours long. Her confidence and competence on the subject give her the "chops" to speak clearly on legal topics in a way that both informs and entertains. Some of her live streams get ten thousand concurrent viewers at any given time, and those live streams often go on to get hundreds of thousands of views on her channel.
YouTube Live is ideal for anyone who can entertain, inform, educate, and keep an audience's attention in real time. Your subscribers will love the idea of connecting with you live, but they still expect to get some value out of the time they spend with you. If you can do that, then YouTube Live is for you! You might be the greatest content creator in the world, but if your live stream is boring, it won't do your channel any good.
Best Practices for YouTube Live


1 - Optimize for YouTube Search and Discovery
Your live stream will still show up on YouTube's suggested video list, and in some cases, it will also show up in search results, so make sure your title and thumbnail are compelling and speak to a need or want that viewers have.
2 - Plan Your Live Stream
While you should avoid making your live stream feel scripted, it's still important to make some plans beforehand. Identify your takeaway, at the very least. You might even plan the full show itinerary. Remember, there still needs to be a "value proposition" that defines what viewers can expect to get out of the live stream. For example, when Sean goes live on his Think Media channel, he uses a title and topic that would be effective for any video. He also uses visuals, including text and overlays, to emphasize his points, because they help keep viewers' attention. By preparing his talking points in advance and defining the key takeaway of the live stream, he can create something that works well as a live stream but also works well as evergreen content on his channel months or years later.
3 - Start Your Show
Recently, Benji launched the #VIshow, which streams live on Saturday mornings. In the show, he interviews guests about their journeys and advice on YouTube. Sometimes, he shares tips of his own. Sean created the show Coffee with Cannell, where he answers questions and interviews guests using StreamYard, all while enjoying some delicious single-origin coffee.
4 - Don't Let the Tech Hold You Back
The most powerful thing about live streaming is that you can start with simple tools on a shoestring budget and upgrade as you grow. Sean uses a simple USB mic, Cam Link capture card, camera, and easy-to-use StreamYard software in his home office for his Coffee with Cannell show. Keeping the tech simple allows him to run the show by himself and focus on the content and guests. To learn exactly how he does this, check out https://www.youtube.com/watch?v=E8TvG3a5XJY. Of course, you can splurge and build an entire live streaming studio, like Benji did in a converted garage. Check it out at https://www.youtube.com/watch?v=FFvaxBCIwKA.
5 - Engage
Viewers love the idea of seeing you in real time, so make sure to acknowledge them. Shout out people who comment in chat and give praise to the regular viewers of your show.
6 - Start Before You're Ready
Putting yourself on the internet live can be intimidating, so if you're nervous, we fully sympathize. There's no way to cover up your mistakes. It's all raw, real, and uncut. Yes, that's scary, but we encourage you to stretch yourself beyond your comfort zone. Dare to experiment with YouTube Live. You might be surprised at how powerfully it contributes to audience engagement and community building.
When it comes to dominating the next decade on YouTube, live streaming is going to play a major role in helping many creators scale their impact and growth. Don't be afraid to test the waters and put yourself out there!