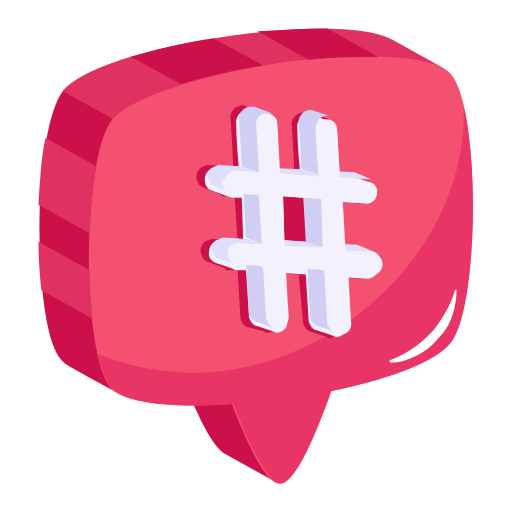 How to Use Hashtags to Attract Customers
Before delving into how the hashtags help in attracting customers and clients, let's first talk about how this massive internet phenomenon came into existence.
History of the Hashtag
It all started with a simple tweet by Chris Messina, a designer, speaker, and an avid Twitter user. His tweet dated 23rd August 2007 read, "How do you feel about using # (pound) for groups. As in #barcamp [msg]?"
The idea behind this tweet, as he explains, was to introduce, to some extent, contextualization, content filtering, and exploratory serendipity within Twitter. Little did he know that in a short span of time, the concept of the hashtag would receive wide acceptance across different social media platforms and become a frequently used metadata tag. While he was inspired by a similar use of "#" on other sites, he is widely credited as the inventor of the hashtag as we know it today.
It may have originated on Twitter, but the concept of hashtags and its potential in grouping similar posts is extremely relevant to any social media platform that deals with quick and dynamic content. So, it wasn't exactly a surprise that Instagram, with its vibrant visual content, took the hashtags to a whole new level.
A simple explanation of a "hashtag" is a keyword or phrase that is prefixed by the "#" symbol, whose objective is to group user-generated content of the same type or theme.
While the advantages and convenience of hashtags are proved beyond any doubt now, initially, people hated them mainly because of how they looked on their timelines. But, before they knew it, hashtags were adopted so widely that nearly 24% of measured tweets contain hashtags now.
A Glance at Hashtags on Instagram
Instagram adopted hashtags even better than Twitter. A staggering 66.6% of Instagram posts contain hashtags. That's two-thirds of all the content that's generated on Instagram! With hashtags being used so extensively, they obviously have marketing potential if used smartly and appropriately. We will see how in the upcoming sections.
According to Mention's Instagram Engagement Report, which is based on data from 115 million Instagram posts, the five most commonly used hashtags were #love, #instagood, #fashion, #photooftheday, and #style. However, they were not the most useful tags. That credit goes to the ones that actually manage to boast the highest average engagement rate. Those are #ad, #comedy, and #meme. The #ad, as the name suggests, is used to denote sponsored content, which highlights the power of influencer marketing on this platform.
Other statistics suggest that an Instagram post with at least one hashtag enjoys 12.6% more engagement than a post without any hashtags. This clearly indicates that if you are planning on growing your Instagram account's marketing potential, it is imperative to be on top of your hashtag game.
Why Hashtags Are Important on Instagram
Over the past decade, Instagram, as an app, has undergone several changes. However, throughout the process, the hashtags held their ground. The reason is simple—they are too important to do away with!
Using the right kind of hashtags, targeting a specific audience on posts and stories is still one of the best strategies to achieve a consistent flow of fresh audiences to your Instagram account. The smart use of hashtags has immense potential to improve your engagement rate and the number of your followers, which directly translates into more business for your brand.
A public Instagram account with posts carrying a relevant hashtag will be displayed on that particular hashtag's page. Some users follow the hashtag pages to consume relevant content rather than following the Instagram accounts. This audience base does form a significant source of the traffic to your posts. This is a great way to reach the target audience with whom you had no prior engagement. If you can impress the first-timers with quality and relevant content, they are surely going to be your followers.
For all practical purposes, hashtags on Instagram can be described as keywords with which you can maximize the visibility of your posts. You simply can't imagine building an attractive and highly successful Instagram account without taking complete advantage of hashtags' marketing potential.
Things to Remember Before Devising Your Own Hashtags
First of all, if your Instagram profile is private, the hashtags associated with your posts will not be displayed in the respective hashtag pages. If attracting more customers/clients is your primary objective, then a private profile seriously restricts your chances. Of course, once you gain the required level of popularity, you can afford to go private to exercise control over the type of followers that consume your content. But for beginners, a public account offers much better growth potential.
The structure of hashtags allows for the use of numbers, but blank spaces and special characters are not permitted. Also, you can use hashtags only on your own content and cannot use them to tag posts from other users.
While the overuse of hashtags on a single post may not fetch you the required results—using too many hashtags dilutes the specificity of your content—Instagram permits you to use up to 30 hashtags on posts and up to 10 hashtags on stories.
Types of Instagram Hashtags and Their Advantages
There are different types of hashtags in use on Instagram, and understanding them is vital to coming up with an efficient hashtag strategy for your account. The three main categories are community hashtags, branded hashtags, and campaign hashtags.
Community Hashtags
As the name indicates, community hashtags are designed to bring together like-minded people. It is a great way to establish your own community and gain followers with similar tastes and inclinations. Community hashtags also improve the searchability of your posts.
There are several sub-types of community hashtags that indicate your products or services (e.g., #coffeeshop, #pizza, etc.), hashtags that indicate your professional niche (e.g., #eventplanner, #DJ), hashtags for Instagram communities in your niche (e.g., #carspottersofinstagram, #foodiesofinstagram), hashtags for special events or seasons (e.g., #independenceday, #internationalgirlchildday), location-specific hashtags (e.g., #madeinIndia, #detroitmachines, #italiancuisine), daily hashtags (e.g., #throwbackthursday, #mondaymotivation, #wheeliewednesday), hashtags containing phrases related to your activities (e.g., #carlove, #drivefastdrivesafe), hashtags for acronyms (e.g., #motd—meme of the day), and hashtags with emojis (while special characters aren't allowed, you can certainly employ emojis as hashtags.)
Using a variety of community hashtags on your posts can help you reach different yet relevant communities. For example, if you own a custom car garage in Detroit, you can use the hashtag #customcarbuilderindetroit to cover potential customers looking for a mod-job, and you can also use #lifeofcustomcarbuilder to attract enthusiasts who are interested in your daily life as a car modifier.
Branded Hashtags
Branded hashtags are a great way to develop your brand identity and coverage on Instagram. The hashtag can be your company name, product name, or even tagline. It can also be a strong indicator of your brand identity rather than being your brand name itself. For example, Nike's #justdoit works very well as a brand hashtag. The sportswear brand manages to make its followers use its hashtag, which is a great way to spread the reach and lure in a new audience.
Another advantage of using branded hashtags is that you can keep a tab on the hashtag page to gain insight into where and in which context your followers are using your business's tag. This can be helpful in tweaking your hashtag strategy or even floating an effective marketing campaign.
Campaign Hashtags
Campaign hashtags differ from the previous two types in the duration of use. While the community and branded tags are meant to last forever, campaign hashtags are seasonal or even run for just a few days. If your business or page needs a shot in the arm, campaign hashtags are the way to go.
Needless to say, campaign hashtags are usually associated with new product launches, limited period offers, a temporary partnership, etc. All of these activities can reach their maximum potential with the right usage of campaign hashtags.
Finding the Best Hashtags for Your Instagram Account
While it may be tempting and intuitive to use the most commonly used hashtags like #love and #instagood on your posts, you should know that these tags that are used millions of times don't really work well to bring you a new audience. They relegate your interesting post to a needle in a haystack, reducing its potential to reach your target audience.
The more niche your hashtag is, the better the engagement rate on your post. For example, if you own an Instagram account to promote your custom car-building business, instead of using a generic and common hashtag like #carsofinstagram or #vintagecar, you could use more specific hashtags like #americancustom, #customfordmustang, and so on.
At the end of the day, finding the best hashtags for your account makes all the difference in determining whether you reach the target audience and grow your following or not. There are a few proven ways to find the tags that best suit your business and page.
Know Your Audience's Pulse
Coming up with hashtags spontaneously is not going to help you reach the right target audience. It is imperative for you to select your target audience and analyze their behavior, the type of hashtags they use, and pick the ones that are suitable for your page, products, and services. By doing so, you will discover hashtags that are not only relevant but also double up as keywords that people on Instagram are actually searching for.
Check Out What Your Competitors Are Doing
Competitive intelligence is important in any type of business, and setting up a successful Instagram account is no different. Knowing what type of hashtags your competitors prefer will give you reliable insight into the tags that tend to generate engagement. While you may not need to compete with your rival's hashtags, exploring them will give you an idea of what makes your target audience tick. More often than not, you will end up finding a unique hashtag that goes well with your page.
See What Industry Leaders Are Doing
The top Instagram influencers in your field or the ones who have similar target audiences are on the top because they must be doing things right. So, it is always a good idea to monitor them closely to uncover some high-quality hashtags for your own use. You can learn a lot more from the top influencers in your niche than just discovering new hashtags. Their content could inspire you or even give you new and interesting ideas.
Explore Closely Related Tags
If you're enjoying success with a hashtag, it always pays to monitor posts from others with the same hashtag and search for other tags that are associated with it. Often, this exercise will lead you to other highly successful hashtags that are closely related to your crowd-puller. If you find such related tags, use them to amplify your reach.
Ways to Optimize Your Instagram Hashtags
Like any other search-based channel, Instagram's hashtag strategy should evolve with the platform's ever-changing algorithms and best practices. An excellent hashtag strategy reaches not only a maximum number of people but also the right kind of people for your business. That's where optimizing your hashtags comes into play.
The best way to optimize and fine-tune your hashtag strategy is to monitor the analytics closely to measure the performance of your past hashtags. This will help you increase the number of hashtags that work for your page and business.
Instagram's analytics tool, Insights, tells you how many people landed on your page via the hashtags you used. Alternatively, you can use one of the many paid third-party analytics apps like Later, which offers even more insights like which hashtags are driving more likes, comments, saves, impressions, and reach. These services also give you objective information regarding the performance of your new hashtags.
The best way to maximize the potential of a hashtag is to try and get into the coveted "Top Posts" category for that hashtag. This naturally directs a lot of traffic your way. For a post to get into the top list, you need to ensure that it gets a high level of engagement in a relatively short period of time. Basically, it needs to be interesting and viral. This tells Instagram's algorithm that your post is of top quality and highly entertaining.
You can also add your clickable branded hashtags on your Instagram bio so that they can convert into website visits. Also, don't miss the opportunity to add hashtags to your stories. You can do this either by using the text box feature (this lets you add up to 10 tags) or by using a hashtag tool to come up with the most relevant hashtag.
One of the most important Instagram updates was the feature that allows users to follow hashtags. This is a great opportunity for businesses to maximize engagement with their audiences. If you can get your followers also to follow your unique branded hashtags, then your posts can appear twice on their timeline—once because they follow your page and once again because they follow your hashtag.
Running hashtag-based campaigns and competitions is another popular way to empower your hashtag and optimize its potential.
How Many Hashtags to Use per Post?
Well, there is no straightforward answer to this question. While some experts recommend that you use as many hashtags as possible to maximize your reach, some believe that sticking to five per post produces the best possible results and keeps things within the target audience. The bottom line is, it all depends on your niche, the nature of your posts, and the width of your target audience base. It is advisable to mix it up until you find the right balance for your unique Instagram account.
Hashtags are the superstars of Instagram. By now, you must have realized the immense positive impact a properly calibrated hashtag strategy can have on customers or clients. It helps you build a long-lasting relationship with your followers, as well. So, we recommend that you keep these points in mind while devising your own unique hashtag strategy.