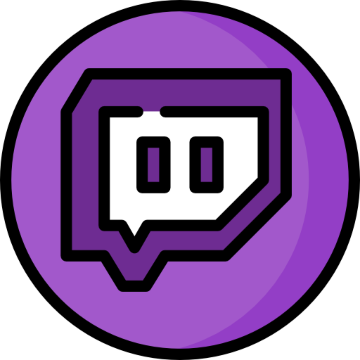 Monetizing Your Content on Twitch
Although you can make money through your YouTube or TikTok channel, focusing on Twitch seems to be a little easier and perhaps more fruitful in the long run. Some well-known gamers have found the formula to make good money. For example, Shroud makes about $100,000 a month from subs. And this is just one income stream. There are also sponsorships, tips, and other money-making techniques.
Compared to TikTok and YouTube, the deal seems sweeter on Twitch when you consider that some of these platforms take as high as 50% commission on your total earnings. According to a poll conducted by gamer Sizzarz, Twitch viewers enjoy supporting their streamers through Gifting Subs (40.2%), Cheering Bits (28.9%), and Tipping (30.9%). So, in this blog post powered by LikesBOOM, we're going to walk through how you can start generating either some or all of your income from the streaming platform.
Start Being An Affiliate
Most people know affiliate marketing and, in fact, establish affiliate marketing links on many of their social platforms. The common affiliate marketing method is to sell something from Amazon that your audience might be interested in. Then you get a small commission payment from all your sales. But that's not the same as being a Twitch affiliate, which I want to help you become. As soon as you gain some momentum with your channel, you should aim to become an affiliate. It will take some work, but here is the fast track route and its benefits.
How Twitch Affiliates Make Money:
Becoming an affiliate for Twitch unlocks the "subscribe" button, which viewers can use to access your custom emotes and show support through financial investment.
As you can imagine, getting someone to subscribe is a lot more challenging than getting them to follow you since money is involved. Still, if you have great content and an addictive personality, your people will ultimately want to show their support by subscribing. Although it's not easy, it's also not as hard as one might think.
Take, for example, the story of Cherry Horne, who says that she became hooked on watching Twitch streams during the pandemic season. Cherry watched seasoned dancers playing Just Dance, and since she'd purchased the game herself, she found watching these streamers quite motivational. She also learned a few moves.
After a little while, she grew fond of certain streamers and decided to start "tipping" them as a token of her gratitude and ultimately subscribed to two of them. For Cherry, it's not just about getting exclusive content or "spending money" on the streamers but more about encouraging fellow creatives for the hard work they do. If she gets entertained and enjoys the content a streamer provides, she wants to tip to show her appreciation.
The bottom line is, there are lots of people waiting to fall in love with your content and get entertained. Once your subscribe button is activated, your biggest fans will likely be more than happy to naturally upgrade into subscribers as long as you remain authentic and deliver epic content regardless of category.
Twitch requirements:
You must stream for at least 500 minutes per thirty-day period and have at least seven unique broadcast days. That means over 8hours of streaming a month. And you can't just stream one long 8-hour gameplay. They have to be at least seven broadcasts within the thirty days. Then you must have an average of three or more viewers per thirty-day period and at least 50 followers on your channel.
With such strict requirements, I would suggest you think about becoming a Twitch affiliate once you hit your first 100 followers. You can check to see if you qualify for the affiliate program by navigating to "Insights" > Achievements from your creator Dashboard. That's where Twitch will track your progress.
Once you are eligible, all you need to do is click the button that appears on your Path to Affiliate achievement. Twitch offers a complete guideline that you should read and follow once you qualify. Visit their Affiliate Onboarding Guide page and remember to read their terms of the agreement. So, the requirements aren't so impossible, but the question is, how do you get there? Here are a few pointers:
• Be willing to put in the time.
In other words, you must commit to doing at least 500 minutes on seven separate days each month. Now, this may not sound like much if you're a teen with a lot more time in your hands, but for someone with a full-time job, family, and other obligations, this can be a lot. Keep in mind that just doing 500 minutes is the minimum that Twitch wants from you, not the amount of hours needed to build an active audience. When you're going from zero followers to the first one hundred, you'll need a lot more streaming and interaction time than a mere 500 hours.
Pro Tip:
Some streamers are very strategic when it comes to hitting their monthly targets. Remember, you need the 500 hours done on seven separate days, and you also need an average of three viewers. Sometimes, streamers will turn off the stream if they have no viewers because they don't want to risk missing the monthly requirement. So, if you don't have a large following yet with lots of active viewers, be strategic about when you stream so you can have the largest number of viewers. To help you achieve this goal, you can get Twitch live stream viewers from our marketing service.
• Pay attention to the ideal times for streaming.
Piggybacking on the last point, it's super important to figure out the best times to have your Livestream as early as possible in your journey. That will enable you to create a schedule that makes it easier to create consistent content and for your viewers to show up on time. Nothing is more important than knowing what your audience loves and the times they are usually available.
The other key aspect is finding creative ways to attract people to join your stream. Given how many gamers are playing simultaneously, you can't just cross your fingers and hope someone will stop by to support your gameplay. You need a plan on how to attract the right attention to your channel.
• Leverage your offline social groups.
Since it's going to be important to reach the average view target, a very simple yet highly effective tactic is to convince (sometimes bribe) roommates, family members, friends, fiancé, and anyone else who can give you some time to watch your stream while you're live. Those views will still count toward your average monthly requirement, and it's likely to draw in new viewers because humans like to gravitate toward action. More often than not, action is dictated by how many viewers are on your stream. So, someone who is just casually browsing might come across two exact games taking place at the same time, and she is likely to click on the one with more viewers. It's just our human nature. Use this to your advantage.
Next Step: Partnership
The next level up when it comes to monetization is the Twitch partnership. That requires a sizeable audience to qualify for, but you should easily scale up to partnership if you're already successful with Twitch affiliate. Here you will earn revenue by accepting subscriptions from your viewers, which are: $4.99, $9.99, $24.99, or the Prime Gaming free subscription. You can also unlock up to 50 channel emotes. Another way you can earn money is through Bits. Your viewers buy bits to cheer you on (tip you) without leaving the platform. You will, of course, share this revenue with Twitch, and you'll also get to customize your Cheermotes and Bit Badges. Lastly, as a partner, you can earn a share of the revenue generated from any ads that are played on your channel. You get to determine the length and frequency of the mid-roll advertisements through your dashboard.
Twitch Partnership requirements:
To qualify for Twitch partnerships, you need to complete the Path to Partner achievement or demonstrate a large, engaged viewership/following. Your content should conform to the platform's community guidelines which is why you must read them as soon as you launch the channel. And just in case you think this is a one-time thing, please note that Twitch expects you to consistently maintain your channel status, meaning you need to keep your audience hyperactive month over month. So, this is definitely the big leagues. You cannot just have this as a side hustle. The best-paid Twitch partners are doing it full-time.
How much can you expect to make as a Twitch partner?
On average, expert streamers can earn anywhere between $3000 and $5,000 each month by putting in about a 40-hour workweek. If you put in the time and effort to grow a sizable audience, this can become pretty lucrative. Add to that the extra revenue generated from ads ($250 for every 100 subscribers), and you can see how $10,000 becomes a realistic goal. So, if you want to earn $10K a month playing video games, it is an absolute possibility. The path is logical. Many are doing it on Twitch already, so you can too, once you develop the right work ethic.
There's More!
As mentioned earlier, there is a multitude of ways we can generate revenue from Twitch. So far, we have discussed Twitch affiliates and partnerships. I also briefly touched on Twitch ads which, according to CNBC, is $250 per 100 subscribers.
• Twitch ads
Twitch offers standard Interactive Advertising Bureau pre-roll and display ads. Streamers get paid based on the Cost Per Impression (CPM) model, which is every 1,000 views of your ads.
• Paid Livestreams and Sponsorships
Once you have a sizable audience, many opportunities become available both on and off Twitch. One great opportunity is getting sponsored by companies to market their products. That can include promoting their merch, talking about them during your live streams, and using their products on camera. For example, the famous Ninja usually promotes DXRacer chairs, which probably pays him to display them.
Another form of sponsorship is a paid Livestream where game developers will pay broadcasters to live to stream their game and get in front of a new audience, hoping that some will purchase the game as well and play.
• Affiliate marketing
Affiliate or referral marketing is an excellent way for you to be able to make money on Twitch. Keep in mind that this isn't the same as being a Twitch affiliate. With this method, you provide links to the specific products you want your audience to buy. Becoming an Amazon associate is the most common option for many streamers. And as a Twitch affiliate, you can earn higher commission rates than standard referral accounts through Amazon Blacksmith (Twitch's built-in Amazon Associates tool).
Although most people only associate affiliate marketing with Amazon, you could establish relationships with the companies whose products you're already using.
For example, if you love the chair you're using, you might work out a deal with the company manufacturer and get a coupon code that you could share with your followers. Anytime someone uses your coupon code to buy the chair, the company cuts you some of their profit. The more your audience grows, the more your traffic to the products will increase, and if you're getting a fair commission, this can lead to a lot of money each month. In fact, if you've got a large following, affiliate relationships can be more profitable because you get paid a commission instead of the earlier option of a sponsorship which is a fixed fee. I like affiliate marketing because you don't even need to become a Twitch partner and go through all that hoopla. As long as you have a big enough audience that loves you, money can start rolling in.
Make Use of Your Channel Analytics
Gaining an understanding of how your channel is performing is vital to your success. You need to identify what's working and what's not as early on as possible. That requires tracking, measuring, and analyzing some data. Lucky for you, Twitch comes with in-built analytics to help you constantly improve your delivery and craft.
To increase your chances of getting affiliated and partnered with Twitch, as well as to ensure you continue to plan your streams better, you need to learn how to read your channel analytics. Let's cover the channel insights, how to read and use the data Twitch will provide you with overtime.
Channel Insights
To access channel insights, go to Twitch.tv and select your icon on the top right. Find "Creator Dashboard" then "Insights" on the left sidebar. Here you will find the channel settings where all your data is stored. There are three subsections:
• Channel Analytics
That will provide a holistic view of your channel. It gives you information about average viewership, live views, follower gain, subscription gains, and revenue.
This section is great for keeping you accountable because you can see all of the streams you've done over a specific time period, and it also shows you where your views are coming from, your top clips, and more. You can break down the data by date range, and I recommend a month-to-month comparison on how you're doing to avoid being overwhelmed or getting lost in the data.
An example of when to use channel analytics:
If you're thinking about switching game genres and want to determine whether or not it was a great idea, you can run some test streams. Then use channel analytics to see how your average viewers and follower gains were affected. That will enable you to make an informed decision on how to proceed.
Another powerful way to use this tool is to check the streamers with a similar audience that you could potentially collaborate with. Find "Which channels have viewers in common with mine?" and start connecting with the people who you feel might great make partners so you can cross-pollinate and grow your communities together.
• Stream Summary
In the stream summary, you will see data from each of your previous streams. You can see stream duration, average viewers, max viewers, new follower count, total views, unique chatters, peak time, raids received, viewers by hour chat, tips, and views by source. This information is great when you're trying to grow your Twitch following so you can reach your goal of becoming an affiliate or partner. You can also use this data to figure out the best streaming times.
For example, suppose you've been streaming from Tuesdays to Saturdays from 7:00 pm to 10:00 pm for the past three months. You now have ample data to help you figure out peak time. You might see in the stream summary that, on average, your peak time for concurrents falls at 9:00 pm. You might also realize that at 8.30 pm, there's not much action, and yet by the time you're done streaming, you have double or triple the concurrents you had when you started. That data enables you to begin testing different alternatives. You could stream from 8.30 pm to 11:30 pm to see what (if any) changes would happen to your follower gain, concurrents, and overall reception.
Another thing you can do is to check your Views by Source box. This area shows where you are getting traffic to your channel. Track to see how effective you are at bringing people from your other social media accounts to Twitch. That is extremely helpful because you can learn whether your CTAs on Twitter, TikTok, and Instagram are actually working.
• Achievements
As the name suggests, this tool enables you to stay accountable and keep track of your goals. If the Twitch partnership is a big goal, then you'll want to keep an eye on your achievements data. It also helps you track things like how many hours of streaming you have under your belt, how many average viewers you have over 30 days, and so on. It takes out the guesswork and the fatigue of manually having to figure all of these things out. The best part is when you hit the desired goal for becoming a Twitch partner, that form for applying will open up for you automatically.
You can use Achievement in combination with Stream Summary and Channel Analytics to improve and change your content. Each of these subsections provides detailed information about certain items of your channel. Use them to see how your channel performed month by month but remember, don't get lost or discouraged by what the data shows, especially when you're just getting started.