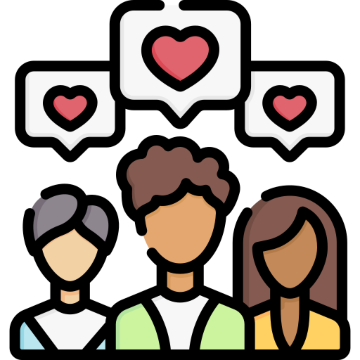 Buy Facebook Followers
⚡ High-Quality and Real Facebook Accounts
⚡ Facebook Page or Profile Followers
⚡ No Admin Access Needed
⚡ Lifetime Refill Guarantee
⚡ Confidential Service
⚡ Safest Promotion Techniques
Buy Facebook Followers, Grow Fast & Organically
Get More Facebook Followers & Boost Your Visibility!
- The Easy Way To Get Facebook Followers and Fans!
Features:
Facebook Page or Profile Followers only with real accounts.
Guaranteed refill if something goes wrong.
⚡ Start Time: 1 to 24 hours
⚡ Speed: 500-3K/day
⚡ High-Quality Accounts
⚡ Affordable Prices
⚡ No Admin Access Required
⚡ Live Chat 24/7 Support
⚡ Lifetime Refill Guarantee
⚡ Confidential Service
⚡ Safest Promotion Techniques
REFUND GUARANTEE
Is obvious that your payment should be refunded if an expected service cannot be delivered. In this case please contact our support team to provide you a refund.
NO PASSWORD REQUIRED
We don't ask for your password or any private information. We recommend you to protect your password and don't give it to anybody for your safety.
24/7 LIVE SUPPORT
We provide non-stop live support. You can contact us 7 days and 24 hours in a week on our Live Chat Support, WhatsApp by line +351935874440 or by email.
REFILL GUARANTEE
Yes, you will get a LIFETIME guarantee! Our services are stable, But if you face drops, we guarantee you will get a refill. You only need to create a ticket in your dashboard and ask for a refill.
Why Buy Facebook Followers?
Being the most popular social media network, Facebook is probably where you want to start marketing or promoting your products and services. And if you would like to do that from your personal facebook account, the Facebook Follow (Subscribe) option is just for you. You will not be bound by the 5,000 friends limit on Facebook, and you can get as many facebook followers as you want to your personal account.
When you have a lot of facebook followers, your posts are seen by a huge audience. If you are a frequent content poster on Facebook and want more real people to interact with your content but you don't want to clutter your profile with a lot of friends. Then, this service is perfectly made for you!
On personal Facebook profiles, you can enable the option for users to "Follow" you in your settings. Once a user has followed you, they'll receive your wall updates in their newsfeed, much like that of a Facebook page. This way, you can enjoy many of the same benefits Facebook Page owners do, but with your personal profile.
Want to impress your friends? just buy facebook profile followers service and show them how many people follow you. When you have a lot of followers, Facebook shows them on profile previews (when you keep the mouse over a person's name) and also on your profile page. It looks cool, isn't it? Celebrities do this to their profiles for show off.
Stand out from the crowd!
Facebook Followers are very beneficial for your business. They play a vital role in promoting your product. All you need to know is the process of getting users to notice your brand. Human nature is to follow the crowd.
Buy Facebook Followers and get your brand noticed by the huge crowd across the globe within no time. Every time you update your status regarding your business or anything, it'll be sent to all your facebook followers' walls too. This is also the best method for new business beginners who want to set their feet in their respective field and need a fast exposure by easy marketing at a reasonable rate.
Get More Facebook Followers!
- Facebook and Social Media Marketing Experts since 2012;
- 100% Real & Fast Facebook Followers From Real People;
- 100% Risk Free & Money Back Guarantee, Try Us Today;
- Buy Cheap and Active Facebook Profile Followers;
- Dedicated Customer Support with 24/7 Live Chat;
- 175.000+ Satisfied Clients Around the World;
- Multiple Secure Payment Methods Available;
- Improve Facebook Search Ranking Position;
- Anonymous & Confidential Service;
- Lifetime Refill Guarantee;
- Safest Promotion Techniques;
- No Admin Access Required.
How do I enable Facebook Visitors to Follow me?
In order to allow your visitors to follow you, you'll need to turn on the Follow button on your Facebook profile. Thankfully, Facebook has a handy link for this, available here. Simply visit that link, click "Turn on Follow" and place your order.
Are these Real people following my Facebook profile?
Yes. Everybody who will be following you are real people who are following your page on their own free will. We don't pay people to follow your page, nor do we use click farms, bots, or scripts like some of our competitors do.
How do I see my total number of Facebook Followers?
Once you've enabled people to follow you, you can see who has followed your profile by visiting your timeline. On the left, under "About", look for the "Followed by" metric to see a total count of how many people are following you. This number can take a little while to update, so please check every 24 hours after placing your order to track progress.
Why Use LikesBOOM to Increase Facebook Followers?
We provide services for Facebook, Twitter, Instagram, YouTube, TikTok, LinkedIn, Pinterest, SoundCloud, SEO (Website Traffic) and many more. We are the best, fastest and cheapest social media marketing agency, since 2012! We offer full support along the way and will answer any questions or queries you may have.
Whether you are looking to become more popular, gain more customers, increase your visibility or boost your search engine ranking, when you buy facebook followers, you are helping improve all of these opportunities. Boost your credibility, customers confidence, achieve amazing business results and many more!
Be More Popular, Attract More Customers and Increase Your Sales!
- Best Quality and Cheapest Facebook Followers Service;
- Facebook Profile Followers Are 100% Guaranteed;
- Dedicated Customer Support with 24/7 Live Chat;
- Grow Your Facebook Followers Naturally;
- No Passwords Required;
- Super Fast Delivery;
- Anonymous Service.
Is Buying Facebook Followers safe?
Of course! We use manual methods 100% of the time that don't violate the TOS or terms of service of these websites. You will get high quality facebook followers and likes without any worries on your part. Once you order you'll see these in your account. Please read our FAQ for more information.
LikesBOOM.com is a name you can trust!
The more facebook fans or followers you have, the more traffic you will have. The more traffic you have, the more clicks and purchases your company/website/blog could receive. Overall, this process just flat out makes your business that much more successful.
- Buy Facebook Fans and Followers & Explode Your Facebook Presence!
- Real and Active Subscribers for your Facebook Profile Account!
- Getting more FB Followers will help your visibility!
Why Choose LikesBOOM.com?
1) We're a team of social media experts providing digital marketing services since 2012.
2) We deliver a wide range of social media marketing services, including FB Followers – both for individuals and businesses.
3) Working with us is easy. We are sure you will be delighted with your order.
Get Fast and Guaranteed Results with LikesBOOM!